Innovative Products for Self Storage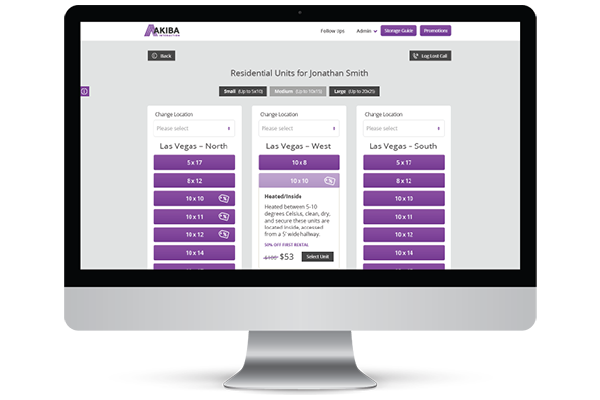 Close more Telephone leads and build meaningful customer relationships.
Increase phone Call conversions and customer satisfaction with Akiba Interaction.
This interactive lead management application comes equipped with the ability to close more leads and simplify the sales process through a unique and customizable user interface.
AKIBA Interaction is a web-based Customer 
Relationship Management (CRM) solution for self-storage operators. With the assistance of the SiteLink API, AKIBA Interaction ensures no lead is left unattended. With its built-in, multi-channel follow up process, AKIBA Interaction helps you create more meaningful and lasting relationships with your customers.
AKIBA Interaction provides operators access to:
Customer history across various locations
Real-time employee reporting
Current customer accounts
Credit Card and ACH payments
Account Management
Past sales interactions

Service Your Clients 24/7
No Client Is Left Unattended With Akiba Kiosk.
Allow your facility to service its clients 24/7 using our web-based kiosk application. With built in two-way video conferencing no client will ever be disregarded or neglected.
AKIBA Kiosk provides the self storage industry:
A Cost Effective Solution
Web-Based
2-Way Video Chat
Rent And Accept Payments 24/7
Reduce Staffing and Operational Costs
Various Options For Deployment